"If people take my blog for inspiration for this behaviour I don't think they are reading it very well."
Welcome to the fourth instalment of the 'Can I make a living from Football Index' series. 
The first three months have gone well but what would November bring? The new boosted dividend payouts started on November 1st and we also had a couple of batches of IPO's. Question is, have I took advantage?
I left you last time out excited about the soon to be increased dividends payouts and looking forward to the added boost this would give dividend winning players.
How's the '200 club' going?
You may remember in anticipation for this I started a "200 club" which was made up of (what I believed to be) the best players on the platform capable of competing for dividends on a regular basis at 200 shares each.
The initial inductees were Neymar, Messi, Kroos and Alexander-Arnold. This covered all three positions of defender, midfielder and forward as well as a bit of media from three of them in particular.
Looking at these four players in terms of dividends earned since forming this new little club, they have brought back the following from its inception. Bear in mind they also brought in some divs before the November increase even kicked in:
| | | | | |
| --- | --- | --- | --- | --- |
| type | name | quantity | total | date |
| Match Day Dividends | Lionel Messi | 200 | £8 | 28/11/2019 00:13 |
| Match Day Dividends | Lionel Messi | 200 | £8 | 28/11/2019 00:11 |
| Match Day Dividends | Toni Kroos | 200 | £8 | 17/11/2019 00:13 |
| Match Day Dividends | Toni Kroos | 200 | £8 | 17/11/2019 00:10 |
| Media Dividends | Trent Alexander-Arnold | 200 | £6 | 11/11/2019 00:12 |
| Match Day Dividends | Lionel Messi | 200 | £16 | 10/11/2019 00:13 |
| Match Day Dividends | Lionel Messi | 200 | £16 | 10/11/2019 00:11 |
| Match Day Dividends | Trent Alexander-Arnold | 200 | £16 | 03/11/2019 00:12 |
| Match Day Dividends | Toni Kroos | 200 | £6 | 31/10/2019 00:12 |
| Match Day Dividends | Toni Kroos | 200 | £4 | 31/10/2019 00:10 |
| Match Day Dividends | Lionel Messi | 200 | £4 | 30/10/2019 00:14 |
| Match Day Dividends | Lionel Messi | 200 | £2 | 30/10/2019 00:12 |
Not a bad little return on just Match Day and Media dividends alone. They also brought in IPDs for goals and assists seeing as I was in the first 30 days. The real money made was in Capital Appreciation. TAA and Kroos, in particular, have skyrocketed over the past month.
So much in fact that I have actually bought more of these two at given points and sold on to take the profit, leaving 200 left in my port going forward. This has ruined any average price or percentages but there was money to be made so I took it. 😀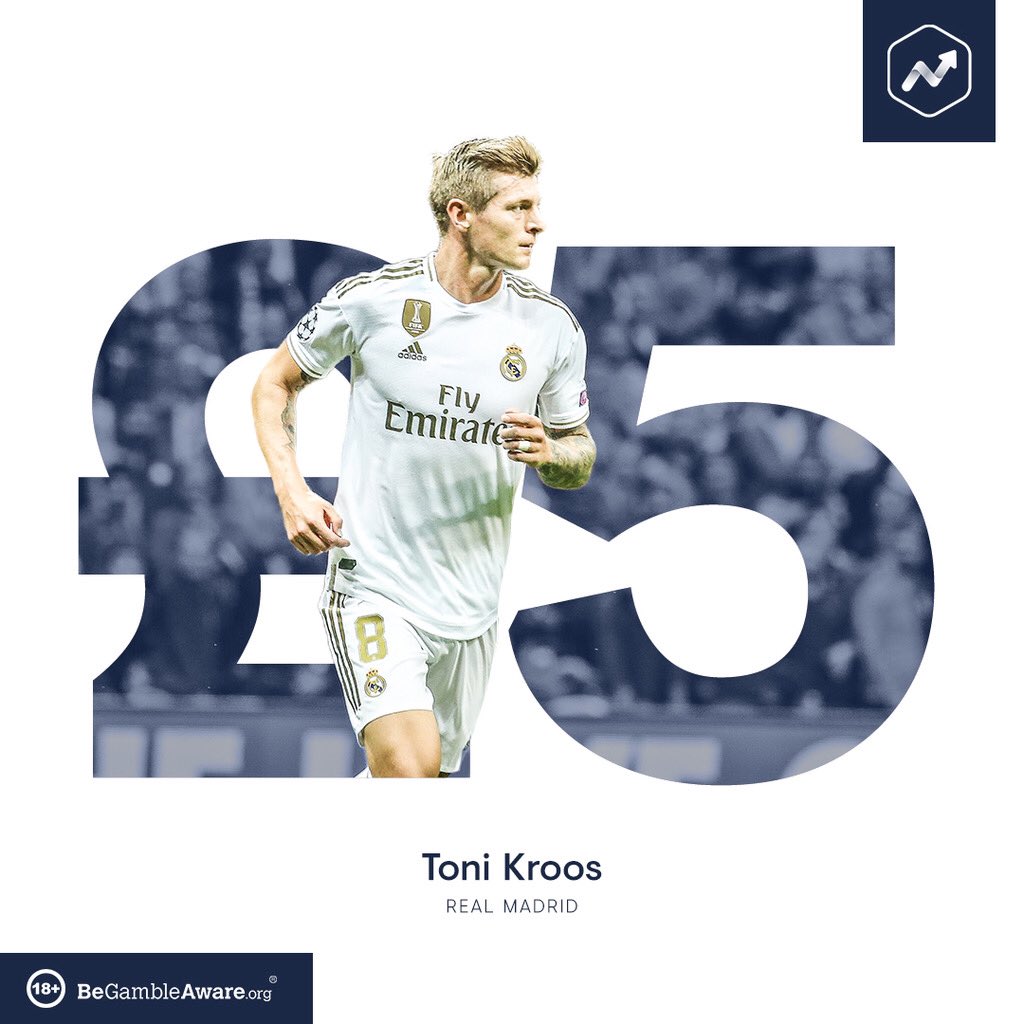 It's difficult to say the exact amount of profit these four lads have brought me in this "200 club" period, as I don't even remember what day I started it and I have owned some of these players beforehand.
However, since the start of 1st October, these four players alone have made me £2110 looking at buys/sales/divs/commission from my downloaded transaction history on the Beta site and what they are worth now sat in my port. I am not gonna complain at that return.
I have also added Memphis Depay into the club on the 29th October. I could see him getting lots of action and I didn't want to wait too long so jumped in before he broke the £4 barrier. He has brought me a few goals and an assist with a rise of 46p so not bad. He is injured atm so will see what he can do when fully fit and raring to go. 😀
What's the next trend?
"…he has the skills to suit the new matrix"
A few people have asked me directly what I think the next trend is gonna be and I have heard it/seen it being discussed on podcasts, Twitter and Indexgain. It's always hard to say with complete 100% certainty but one thing that does stand out to me is "PB youth".
Or to be more specific, younger players that look to have a big PB game for the future. The nearer the future the better. I don't even know if this can be seen as "a trend" per se but if you can invest in a younger player who can challenge for PB, you are on to a winner right?
Some players I have put into this bracket are James Maddison, Rodrygo and Reece James to name a few. All three of these players are at different stages in their careers and also FI journeys but one thing they all have in common is their age. They are all 23 or under.
Maddison is a few years older than the others and has a full season in the Premier League under his belt, Rodrygo is a just few months into his new (massive) club and Reece James has literally just got his first couple of starts.
Maddison showed last season that he has the skills to suit the new matrix as his key passes and chances created stats are right up there with any player in Europe. He is also on set pieces so his PB score can fly on any given Match Day, which we have already seen this season. Add in the England factor he has it all going for him.
Rodrygo has already won PB divs twice this season within a week of each other, and for an 18-year old, he looks to be a potential world-beater. What has impressed me most of all is he can show to have a decent PB base for a forward so he isn't completely reliant on hat-tricks to win dividends. Imagine where he can be price-wise in a few years?
Reece James is completely raw as an FI player as we only have a few appearances right now to judge him on. His 45-minute cameo in the Champions League against Ajax was impressive. Not only did he score but he provided 7 crosses in that 2nd half which as we all know can bring big PB scores to flying full-backs. At 19 years old, he is one to watch.
He followed this up with a very impressive first-half away to Valencia where he was smashing PB and playing his way into the first team. The below are his stats:
So, with the above being said, it would be foolish of me to ignore the potential of players like this. So as well as the '200 club' being opened up for the established PB Gods and Kings, I have also invested in some PB Princes that could go on to rule the Index in the future.
No surprises that Maddison, Rodrygo and James are in there seeing as I just bigged them up and I have also added Benjamin Pavard who amazingly is still only 23. He has been putting in some quality performances and showing what Kimmich would be doing if he wasn't now (seemingly) first choice midfielder.
I got on him when he scored last weekend (yes, it was his goal) and he has put in another decent UCL PB score and has broken through the £2 barrier. I got on him at £1.38 and has already given me a Gold Match Day div win, a goal and an assist. He could be up near £3 come the Euros.  Happy days. 
I also added Leipzig 20-year-old centre back Dayot Upamecano, his PB threat has always been there and with a recent PB win and his last two performance getting a PB score of just under 200 without a clean sheet bonus, I couldn't wait any longer. He also has transfer links and could be a future FI monster.
A couple of other players I have added are Christopher Nkunku and Panagiotis Retsos. Nkunku was more of a fixture buy given Leipzig had a tasty 30-day period and he showed he could put in a good PB score with a threat of a GWG but if he does the business he could be a keeper.
Retsos got his first start in a year for Leverkusen and given their strategy of knocking it around at the back, I grabbed some and see if he can put in some PB scores like his teammate Sven Bender. At 20-years old and 46p, there wasn't much risk there.
Are these players all 200 share purchases a piece you may ask? No, given their lower price (Maddison and Rodrygo aside) and huge potential to grow I have 300 shares (give or take) in these lot.
How can you suddenly afford this lot on top of your 200 shares in elite players you may also ask? Well, let's answer that by swiftly going onto this months numbers.
November numbers
I am taking these numbers as of 28th November, exactly a month after the previous episode on 28th Oct. I will point out immediately that I have taken out £900 this month but will also show stats as if I hadn't for a clearer outlook on the progress made.
Last month I had £17,473 in the Index, this month I now have £23,933. Which is an increase of £6,460. If you add the £900 taken out it works out at £7,360 increase over the month.
This sits at £1,666 a week which has been above my ongoing average of around £1,000 a week so far this season. So, November has been a cracker!
The total profit made since starting this blog a week into the season is now £19,233. Starting with a "budget" of £6,700 this is an ROI return of 287% over a period of just under 16 weeks.
My all-time profit has now ticked over the £30k mark and stands at £30,730. My divs have had a nice boost also and ticked over the £4k mark to £4,228.
Looking back at Episode 3 it has been some jump in numbers this time around. My profits are up 31.5% and dividends have gone up 23.7% since then which is huge considering the size of the payouts and difficulty in winning them.
IPOs
This month also had two batches of IPO's which I painstakingly tried to take advantage of as best I could. That first week of 24 hours a day for 5 days was tough. I couldn't stay away for that fear of missing a big one so stuck it out for pretty much the entire process.
After a few close shaves, tech issues and overcoming just sheer boredom I came away with £1,700 on the first batch. The second batch was a much better process with actual time slots and I made £800 on these bringing my takings to £2.5k. I will take that.
Below is the first batch.
A day in the life
"I was too stubborn in my ways… "
I have been asked a few times if I could show what a day in-play trading is like. I don't have any videos or anything fancy to show but I can briefly go through some moments from the last one yesterday, which was 1st December.
Sundays are usually the best day for in-play trading as games are spread out nicely due to TV coverage and can have a few on before the dividend deadline. With the deadline now being extended to 3pm, this can create even more opportunity.
There were two tasty looking early games on with Sevilla and Juve at home as heavy favourites.
Bonucci opened the scoring for Juve to kick things off, which actually caught me off guard slightly, so just managed to get 300 at 53p. Juve went and conceded minutes later so I install sold him at 60p at a 2p spread, so a little bit of money made there.
A defender opening the scoring for the home team that are heavy favourites will always bring action and rises. Especially if he is the main defender with some decent PB. As chances are with a clean sheet you could be talking about the day's top-scoring defender.
It happened on Saturday morning also when Ramos scored first for Madrid. I flipped 300 to the market nicely but gambled by keeping another 300 for possible divs. That didn't make as much, as had to IS them when he gave away a penalty. Stupid Sergio.
In the Sevilla game Sunday morning, another defender (who had decent PB already in the match) broke the deadlock in the second half. Diego Carlos smashed one in which took him straight to the top of the PB rankings.
I bought him as quickly as I could when he hit the net and sure enough he got a massive rise. As he only had a 2p spread I kept all 600 gambling Sevilla would see the game out, which they did.
With 600 shares locked in, it was just a case of monitoring the day's action to see if another defender could beat his score. With 8p top defender divs, it was a nice payout on top of the capital appreciation.
My average buy was 45p and he settled at 62pish so a possible 8p match divs and the 2p IPD on top was on the cards. Lovely.
He seemed to have it in the bag until Theo Hernandez scored a late winner in the AC Milan game which looked to have done him, so I instant sold Carlos at a 2p spread at an average of around 56p. Could have been more if I had cut loose quicker but take it and move on.
But that wasn't all bad news.
I caught the Milan goal go in, so as I knew Theo has his admirers on the index I grabbed 600 of him once I knew he had scored and no VAR funny business was gonna rule it out. His spread was 3p but I didn't let it put me off as if he won top defender or even star man, I thought this would bring action on him throughout the rest of the day.
He initially went up to 84p but with him being sat as star man, and winning it in the end, he did indeed get some investment and settled at 88p after all the matches were finished.
Now, I was unsure whether he would be sold off at midnight so I decided to list 300, which sold to the market, and I kept 300. Once midnight ticked by I took the IPDs and I listed the other 300 and they have sold at 88p so overall a decent trade.
If that was decent, I can't say the next one was. Going into the day I had 600 Ciro Immobile. I actually had them listed for a day or two as I was lowish on funds and wasn't 100% sure I wanted to keep him for the foreseeable.
Up against Udinese, the first half was before the 3pm deadline and he went and opened the scoring. I quickly delisted them and he had a nice rise. He went and scored again via a penalty, happy days, big rise.
Now, here is where I should have perhaps thought about my holding. He had risen 32p at a peak from kick-off. If I had sold him to the market anywhere near this point I would have banked a huge profit. I didn't.  I was too love-drunk on the potential for someone I had held for a few games potentially winning Gold divs.
I will say though that at this point he could have gone on to win Star Man the way he was playing and if he hadn't have given a second penalty to Luis Alberto to bury, he would have done with a first-half hat trick. So it could have been a different story. Hindsight is always a genius.
In the end, he held on to top forward so I was well happy. He had dipped 5p from his peak rise but he was gonna return me 10p of matchday and in-play divs, so I was loving it. But I was loving it too much.
It never entered my mind that he may be dumped off after midnight like an unwanted Christmas present, as I still have the mentality that an 8p spread (or whatever it was) is pretty brutal.
I had a blind spot in my thinking. Maybe I need to get with the times as we are seeing some crazy ISing all over the shop these days. If I hadn't had preowned him and bought him in-play, I very likely would have sold half and kept half like my Ramos trade on Saturday morning. I don't get misty-eyed in flip mode. 😀
What I did do was I listed them at midnight at £2.13 but I should have instant sold them, as others did in their droves and he went down around 6p in minutes. Then a few pennies more. Now this morning, he has dipped below £2. Unbelievable. Safe to say, I never saw that coming.
The right call would have been to just sell them in-play on the huge rise, but to be honest this was risking missing out on a potential huge div pay-out. The better call was to ignore spreads and think about what could happen to him in these modern times.
I could have IS'd him for £2.05ish but now I am left with him on the market at less than £2. You can't always predict what's gonna happen on the market as for all I know, I could have sold these at a decent price today or tomorrow and maximised profits.
The lesson to be learnt here is to not always have the "maximise profits" mentality but to always be open to a small loss to prevent a bigger one. I was too stubborn in my ways regarding his spread when others weren't. Each trade is different but I will defo remember this one going forward.
I also bought some Jack Grealish when he scored against Man Utd, as he is getting people talking about him in regards to England and also as a decent FI player. But when he looked to have settled for the night, I stupidly listed and sold way too early despite me thinking he could reach £3 the next day as he was rising.
Going against your own judgement is the sharpest kick in the balls of all and I am trying not to look at his current price. Yikes 😀
I also flipped some other players yesterday for small profits here and there and at the end made over £200 but as you can see it isn't all plain sailing doing this in-play stuff. There are burns and missed opportunities everywhere as well as the smooth waves of profit. It's constantly up and down just got ride it out and keep making money.
What will December bring?
"There is some responsibility with FI to make sure all news users know how to use the product but people also have to think for themselves."
FI is giving away Xmas presents every single day for December with a nice Audi at the end of it. If I win any of these prizes then have a look out your window for some pigs flying pulling a sleigh with a half-naked Santa Adam Cole in it. It ain't gonna happen. 😀
Market wise they are pushing out some heavy advertising which could see even more people join up and invest their gambling money. This may bring some rises but it may also bring some sharp drops at any given time, given the seeming extremely short-lived life span of some trades.
What we are seeing at the moment sometimes makes me look like a lifetime investor. I have seen people buy very expensive players and be dumping them a day later, sometime just hours later. It's a crazy and sure-fire way to piss money down the toilet. I wouldn't advise it.
If people take my blog for inspiration for this behaviour I don't think they are reading it very well. I am relatively short term, I am not instant. I have some method to what I do, even if it isn't always spot on.
You may as well stick money on a player being the first goalscorer with a normal bookie and take the win or lose odds than buying him on the index to just dump soon after. The spread plus commission is killing you.
I am not talking about cheap players with small 2p or 3p spreads here obviously. I often take punts on these players time to time and there's nothing wrong with that whatsoever. I am talking about decently priced players with wider spreads.
I ran a poll recently on whether people who signed up were aware of the market sell option. Around 16% said no. There is some responsibility with FI to make sure all news users know how to use the product but people also have to think for themselves.
When I joined up I didn't use twitter for info. The first thing I did was join up to IndexGain as a quick google search sent me in that direction. Traders on there answered my questions.
I also experimented and explored what I was using before going in balls deep. If you click sell, there are two options. If you haven't looked into what market sell might be or mean, then why not? Apologies but that's just lazy. It isn't like it's hidden from you.
Have you used eBay before? What do you think selling to a market where people buy things at the price shown might mean? Try it. List 1 share and see what happens. I 100% understand FI don't make it foolproof but the levels of what we are seeing are way too high IMO.
Anyway, I hope December is a fruitful month for you, there are plenty of games to get your teeth into even with the upcoming winter breaks in Europe, so I hope it goes well overall. Not sure when I will update the next episode, maybe in the early new year.
All the best!
Follow me on Twitter @GingerPirlo_FI
To sign up to Football Index click this link and give it a go. You won't regret it!